Best Retirement Facilities In Surprise, AZ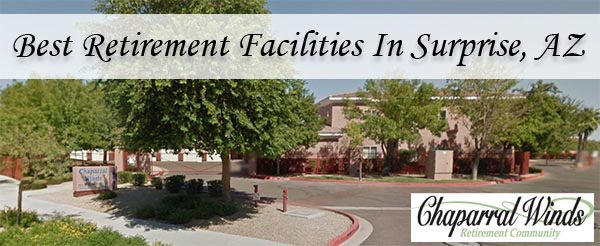 We know that you are looking for the best retirement location in Surprise, AZ and we are here to help! Although, were not going to list a bunch of Surprise retirement facilities, rather, we are going to educate you on what you should be looking for in a retirement home for it to be considered the best "FOR YOU".
The reason we say "for you" and not the best place to live, is because not everyone is the same and what works for some, may not work for others.
Also, what's considered the "best retirement home" in Surprise may not be the best for your either.
Are there costs within your budget?
Do they offer the type of amenities or activities you are interested in. The top rated retirement home in Surprise Arizona may be designed around a gold resort.
Do you like golf? Are you interested in hearing others talk about it frequently?
You see where we are going with these questions? We want to make sure that you are choosing the right retirement home for you and not because other people said it was the best.
However, there are some criteria that everyone should think about before choosing the best retirement home for you.
We just want to get your mind thinking about all aspects of retirement so that you don't forget about your individual needs. With that being said, let's get started!
Main CRITERIA to contemplate for choosing the best retirement location in Surprise:
Weather in Surprise

Recreational and Cultural Opportunities

The type Of Community

Supplementing Retirement Income
Below we will take a look into each topic individually.
The CLIMATE and weather are usually the most important
Surprise, Arizona receives about 301 sunny days per year. July is the hottest with temperatures averaging 106 degrees and January is in the low 40's. Surprise only receives about 7 inches of rain per year and the precipitation is around 27. So, if you enjoy sunny days and quick winter periods with no snow, Surprise, Arizona might be the place for you.
What TYPE of retirement community is best for you?
You may have the idea that all retirement communities only feature scrapbooking clubs or shufflboard… And that's totally fine if that is what you are into, but if you desire more activity like golfing, hiking, bingo… there are plenty of retirement communities in Surprise that could offer that for you.
You know yourself better than anyone, this is where you get to decide what is most important to you. Most retirement communities have event calendars that will show you the type of events that are happening within the community.
Do they serve food that you would enjoy?
Make sure and take a look at their sample menu so you can get an idea of what kind of meals you will be enjoying or not enjoying if you were to pick the wrong retirement home.
Do the people share the same views as you?
Are there community service opportunities?
If you are religious, is there a place close by to worship?
Is the retirement community politically like-minded?
All of these questions should be though about when choosing the best retirement facilities.
Does this retirement home provide ways to supplement your income?
This may be important to you and it may not be, but in the age we are living in, you may find additional opportunities to earn money if you retire in Arizona, Florida, or Panama. Your geographical reach can be much greater than the people of earlier generations due to the boom of technology. All types of retirees are hanging up the office jacket to pick up an online one. Tons of retirees are blogging, building websites, and earning income off of the internet.
In conclusion, choose the best retirement facility in Surprise that meets all of your individual needs and Wants. There are plenty of places to choose from, take your time and weight out all the options.
Chaparral Winds Offers The Finest Retirement Living In Surprise, Arizona