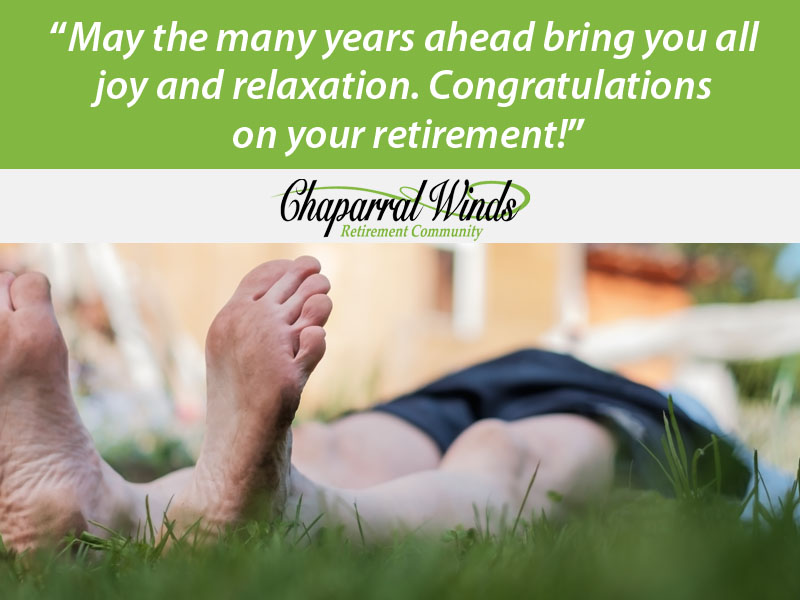 Looking for retirement wishes, quotes, and sayings, or what to write in a retirement card? Awesome, we have pulled together all of the retirement wishes from all over the internet. Here are the top 100 retirement wishes, quotes, and sayings for what to write in a retirement card.
My heartfelt sentiments go out to you. We will miss all that you brought to our workplace. Congrats!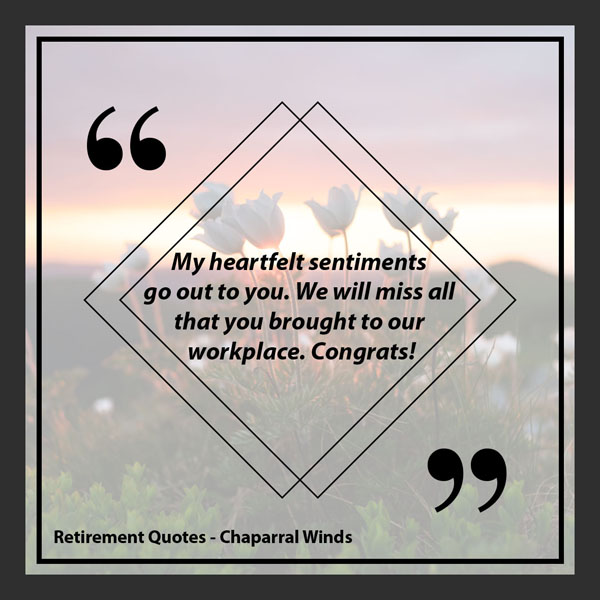 I know your retirement will be truly amazing especially if you put as much effort into it as you did at the workplace. All The Best!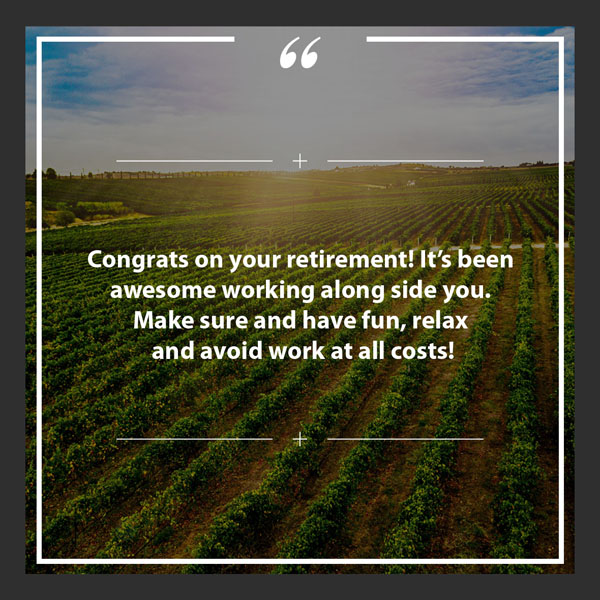 Congrats on your retirement! It's been awesome working along side you. Make sure and have fun, relax and avoid work at all costs!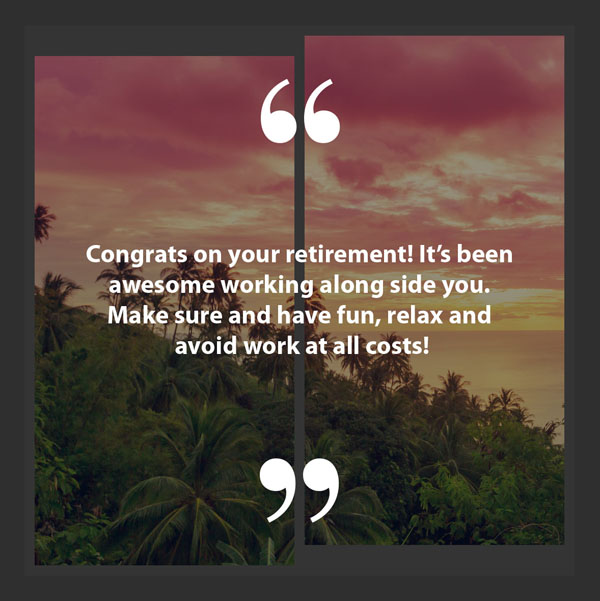 Having a great person like you as my coworker has been no less than a gift from god. I wish you a wonderful retirement ahead of you. You will never be forgotten and missed deeply.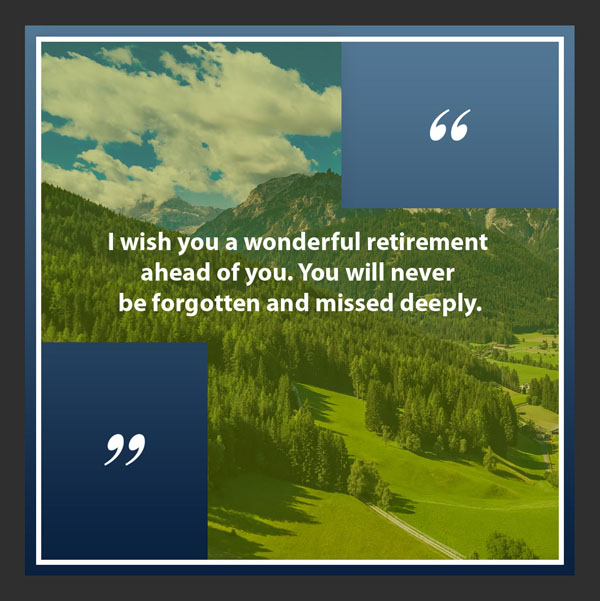 As you move ahead into retirement, remember that you left behind a legacy of achievement, encouragement and work ethic that will never leave our coworker and especially me.
I know you wanted for time for golfing, fishing and sleeping in, now you finally got it, unless you want to trade place with a great coworker like me… hint hint wink wink.
May the many years ahead bring you all joy and relaxation. Congratulations on your retirement!
Who wouldn't want a life made of only weekends? Now you've got one! Happy Retirement!
You have been an awesome co-worker, but an even better friend! Here's to a well-deserved retirement! Happy Wishes!
Just because you're retiring doesn't mean we can't hand out anymore. See you for coffee? Congratulations!
New horizons are awaiting you in retirement. We hope every second of your time is enjoyed with your new-found freedom. All the best!
A Positive attitude, dedication, and hard work are only a few of the things you have shared with us every day. Congratulations on your retirement and thank you for your service!
You worked hard every day for over (number) of years now and accomplished so many great successes for our company. Now, its time for you to take that time for yourself. Happy Retirement!
Now that you are retired, its time to go Fishing! Enjoy your trips to the lake!
The world doesn't end when you leave the workplace, it's just beginning. Now, you just got the best job ever, flexible hours, off on the weekdays and weekends! Enjoy your new retirement job!
Congratulations on your retirement, now you can start doing all the things you wanted to do but never had time for. Enjoy!
There was once a man who retired 6 days after creating the entire universe. It only took you a couple more years than that, haha but you finally made it! Congratulations on retirement!
Don't be a stranger now that you're retired! I'm just a phone call away anytime you want to catch up for coffee or lunch!
Your dedication and team-work with our staff are truly appreciated! We hope you enjoy your retirement as much as we have enjoyed your presence!
Thanks for all the years of team-work and dedication. Best wishes on your retirement!
You're retiring huh? Now how in the world are we going to fill you in on all the office gossip? I guess we could email you all the juicy details once a week… Congrats and don't be a stranger!
Congrats on retiring! Wishing you much happiness, good health, and success as you journey on to new beginnings! Bless You!
It's always a blessing to see someone as deserving as you to finally reach your retirement goals. May you enjoy your new endeavors as much as we enjoyed your hard work throughout the years. Wishing you the best!
Retirement isn't really as fun as it sounds, no pressure, no bosses to listen to and no deadlines, I know retirement can be dreadful, you should think about taking me with you so you don't get too bored hahaha! Have an awesome retirement, you will be missed!
Best wishes and good luck to you in your retirement!
Best wishes for a happy and relaxing retirement.
You are very appreciated and will be deeply missed! Thank's for all that you have done for our company. Congratulations on your achievement.
Sending you happy wishes for you to truly enjoy your retirement!
Happy wishes on your early retirement. We hope you enjoy the opportunity to finally do all the wonderful things you've wanted to do.
Enjoy the freedom your hard work and dedication has earned. Congratulations.
There is a bright future ahead of you. Our best wishes on your retirement! Enjoy it!
Retirement Wishes for Coworkers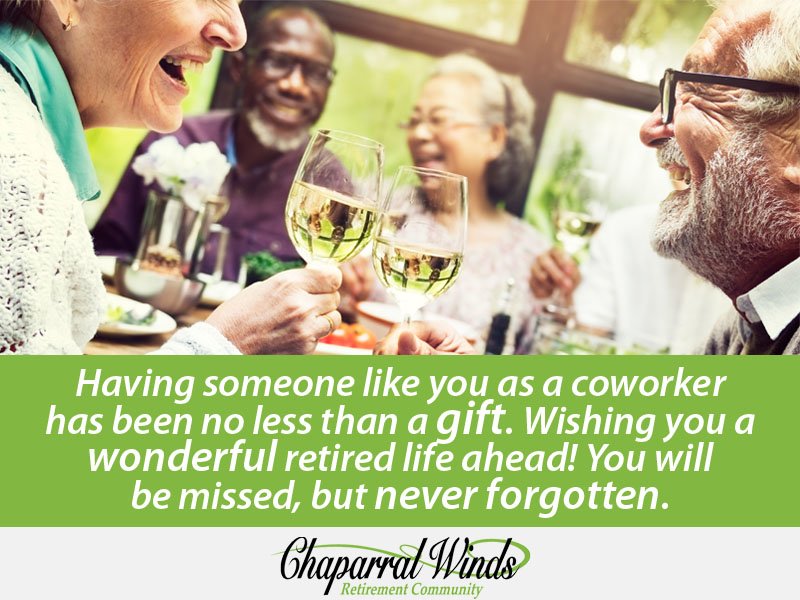 To one of the hardest workers, I've ever seen in our office, congrats on your retirement!
I'll never forget our lunch break conversations, you are truly a great listener! Will miss you deeply, happy retirement.
I hope you have an amazing retirement! You will be missed greatly, but never forgotten!
You are irreplaceable! Thank you for all of your hard work and dedication over the years.
"Having someone like you as a coworker has been no less than a gift. Wishing you a wonderful retired life ahead! You will be missed, but never forgotten." – Shutterfly
"Recently I wished you congratulations on your retirement. But, I also want you to know what a blessing it's been to work with you over these past few years, and how much I will miss you. Then you responded to my note, and wouldn't you know it, your uplifting words encouraged me more than you could imagine. That's the special kind of person you are!" – The Balance Career
Its been wonderful to work with someone so professional, calm, and passionate all at the same time. While it's only been a short while since we starting working together, it was very clear to me right away that you have made a major positive impact on our company! I hope your retirement brings you nothing but joy.
I'm so happy for you. I know you have really been looking forward to this! You deserve all the happiness retirement will bring!
I will never forget your kind words and helpful attitude you brought to the office every day. You are truly a great person and I will miss you deeply! Best wishes to you and yours during your retirement.
Was a pleasure working with you all of these years! I can't believe its already here. It seems like just yesterday you were saying you retire in 5 years. Crazy how fast time passes. So happy for you and wish you nothing but the best in your retirement! Peace and Love
Retirement Wishes for a Friend or Family Member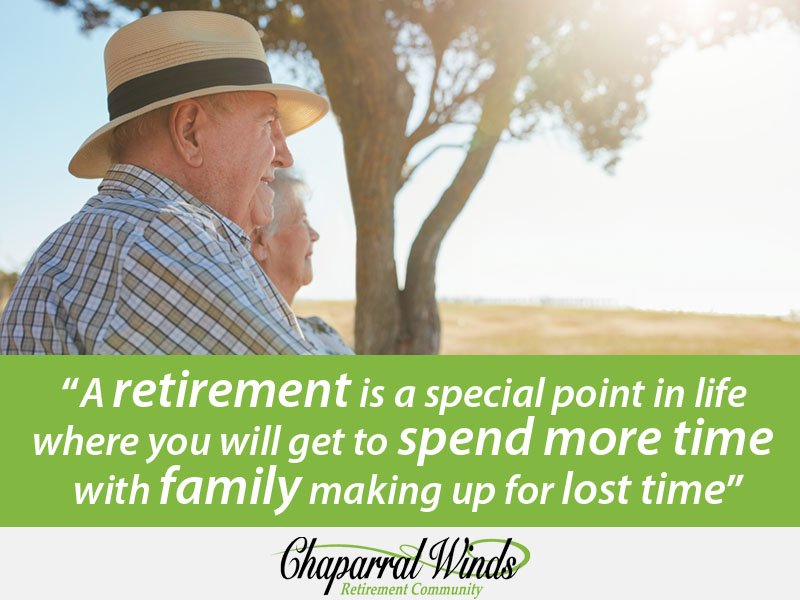 You are one of the most hardworking people I know. You deserve a break. Happy retirement!
"Another chapter has come to an end. But you have plenty of new chapters to come. You have to be proud of yourself for working so hard for all these years, and now it's time for you to enjoy your free time." – Text Messages
"You can't go back and change the beginning, but you can start where you are and change the ending." – C.S. Lewis
"Light precedes every transition. Whether at the end of a tunnel, through a crack in the door or the flash of an idea, it is always there, heralding a new beginning." – Wise Old Sayings
Dad, Mom, Uncle, Grandpa I wish you all the best in your retirement. Let's start getting together and weekends and go have some fun!
If you ever get bored, I am only a text message away. Happy retirement!
"When you get tired of your two new best friends, the bed and living room recliner, remember to give your old friend a call!" – FTD By Design
I've watched you work too hard for so many years. I am so glad that is all coming to an end now. You honestly deserve retirement more than anyone I know.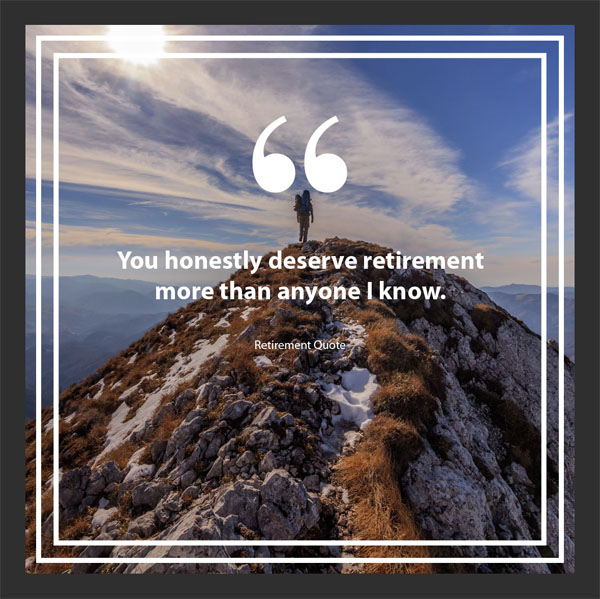 "A retirement is a special point in life where you will get to spend more time with family making up for lost time. Congratulations and can't wait to reconnect with you!" – Quotes 4 U
"Retire from work, but not from life." – M.K. Soni
Retirement Wishes for Your Boss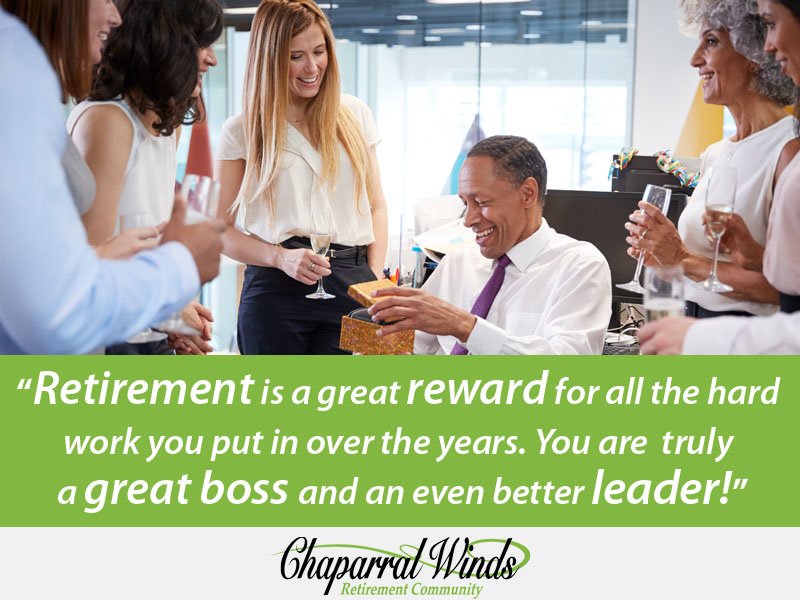 "It always hurts to lose that one best person, who leads the pack at work and gets everything done. The person who moves ahead and takes everyone else along, who builds a winning team by making everyone strong. Farewell, boss." – Future of Working
Retirement is a great reward for all the hard work you put in over the years. You are truly a great boss and an even better leader!
"All the best for an amazing retirement! Enjoy your new chapter in life, where you become your own boss." – Ventana Winds
You were a great boss because you gave us a lot more than instructions. You gave us purpose, inspiration, and direction. Wishing you truly the best retirement:)
"All your life you have given orders to employees like us in the office. Now you will experience how it feels to have a boss, as you stay home and take orders from your wife. Happy retirement." – Wishes Msg
"A life without the daily commute and mountains of paperwork. Welcome to the rosy life, my honorable boss. Congrats on your retirement!" – Retirement Wishes for a Boss
"It always hurts to lose that one best person, who leads the pack at work and gets everything done. The person who moves ahead and takes everyone else along, who builds a winning team by making everyone strong. Farewell, boss." – Retirement Message Ideas
"Your brilliance and guidance have always inspired us to do better. You were not just a boss to us, but a mentor and a friend. Your presence will be missed. Happy Retirement to you." – Work Spirited
"Dear boss, you always like to talk in profit and loss terms so here goes – your retirement is a loss-making proposition for your colleagues because we will lose a great leader but it will be a profit-making venture for your family because they will spend more time with a dotting granddad, caring father and loving husband. Happy retirement." – Brandon Gaille
Leadership is about making others better as a result of your presence and making sure that impact lasts in your absence. – Pinterest