15 Best Low Stress Jobs After Retirement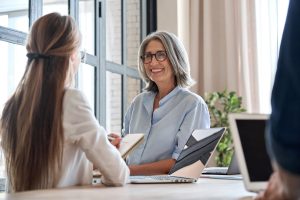 If you are looking for low stress jobs after retirement, check out our list of the 15 best opportunities!
Best Jobs After Retirement
What are you looking for in a job after retirement? Perhaps it's flexible hours, ability to make your own schedule or work from home. These 15 jobs below can fall into all of those categories. Check out some of our picks for best jobs after retirement below.
1. Focus Group Participant
This is a highly popular task for retirees to take part in. You should consider taking part in a focus group if you want to give your opinion, yet keep the stress to a minimum. Paid focus groups are usually held at conference centers or local hotels, featuring small groups of people discussing new products or services. Online focus groups are very popular as well.
Benefits Of Being A Focus Group Participant:
Give your opinion.
Try new things.
Short hours.
2. Writer/Editor
Any sort of prior writing experience could work for retirees looking for a low-stress position. Today, the majority of these positions can be performed from home. Individuals with prior experience could even find this to be quite a profitable venture. Anyone looking for experience should check online for open blogging positions.
Benefits Of Writing/Editing:
Flexible schedule.
Work from home.
Make professional connections.
3. Career Coach
Younger workers are constantly seeking professional advice. Consider the idea of becoming a career coach and passing down your knowledge and experience to the next generation. If you've seen and done it all during your working days, now is the time to prove it! Online video platforms, such as Zoom and Skype, make this a perfect at-home job.
Benefits Of Being A Career Coach:
Form new relations.
Work remotely.
Pass on knowledge.
4. Paid Surveys
This is nearly the same thing as participating in a focus group, but the beauty of filling out surveys is you can do it from the comfort of your own home. There are many companies out there looking for feedback. You can give your opinions on many different websites and get paid instantly.
Benefits Of Paid Surveys:
Create your own schedule.
Work from home.
Give opinions.
5. Musician
Perhaps you gave up playing an instrument while you focused on your career and family. Well, now is the time to brush the dust off the guitar or piano and start playing again. Check online or in the newspaper to see if there are any music opportunities in your area.
Benefits Of Being A Musician:
Play live gigs.
Do something you love.
Form new bonds. 

6. Tour Guide
This is another popular position for retirees. Being a tour guide is a great job because most of the working hours are only during the weekend and most guides have an intimate knowledge of the local area. Enjoy showing off your hometown and interacting with tourists each and every day.
Benefits Of Being A Tour Guide:
Social interactions.
Pass on knowledge.
Flexible schedule.
7. Virtual Assistant
This job may be perfect for anyone that worked as an assistant or secretary during their career. Virtual assistants are becoming more in-demand now due to the Covid-19 pandemic. Virtual assistants can offer technical and administrative support to valued clients. A virtual assistant can make anywhere from $35-$100 per hour, according to LogicalDollar.
Benefits Of Being A Virtual Assistant:
Good pay.
Work from home.
Interactions with clients.
8. Interior Designer
Do your friends and family often ask for your opinion on designs and layouts? Well, how about making a few dollars doing that same thing, professionally? Look into interior design positions, either remotely or at an office.
Benefits Of Being An Interior Designer:
Work remotely.
Make connections.
Set your pay rate(s).
9. Voiceover Artist
Turn your natural gift into a profit! If you have a strong voice, it'll be hard to find an easier job than being a freelance voiceover artist. Especially if you are looking for flexible hours, becoming a voiceover artist is perfect for retirees. You may be able to work with television and radio companies in this gig. The good news is you need no formal training ahead of time.
Benefits Of Being A Voiceover Artist:
Flexible hours.
Work from home.
No training necessary.
10. Photographer
Photography is a terrific hobby for retirees with a creative passion. You can start this venture by booking smaller gigs, then working your way up. It may not be long until you find yourself in charge of a large corporate event or wedding.
Benefits Of Being A Photographer:
Travel to new places.
Creative control.
Set your own schedule. 

11. Hairdresser
If hair dressing is a hobby of yours, it could be easy to turn this into a small business. Anyone with experience can start this work right from home. Combining your hobby with meeting new people can be very rewarding for retirees.
Benefits Of Being A Hairdresser:
Work from home.
Set your own rate(s).
Meet new people.
12. Customer Service
Especially during the pandemic, a lot of customer service representative jobs shifted to remote work. If working from home is your desire, this may be the perfect opportunity for you. Customer services representative must be willing to engage in phone calls, emails and/or chats.
Benefits Of Being A Customer Service Representative:
Work from home.
Consistent work.
Social interactions.
13. Rideshare Driver
Download the Uber app on your smart phone if you wish to make some money picking up either people or goods. Retired couples may love driving for Uber Eats or Grubhub since both parties can ride in the car while delivering food. With Uber, you have the flexibility to make your own schedule. You will only work when you want to, and when you are ready you will simply log into the app.
Benefits Of Being A Rideshare Driver:
Choose your schedule.
Social interaction.
Good pay.
14. Charity Work
If you're looking to stay busy without the desire for a paycheck, charity work is the way to go. Typically, charity workers will focus their efforts on a local issue. With this work, you'll be able to meet others with common interests and make a difference in your community. Thankfully, there are plenty of charity/volunteer opportunities out there. You will most likely be able to set your own schedule and pick up shifts at any time.
Benefits Of Charity Work:
Socializing.
Work in the community.
Contribute to something you are passionate about.
15. Pet Sitter
There is nothing better to do in retirement for the animal lover than enjoying some extra time with furry friends. Whether it's dogs, cats or birds, you will be able to care for someone's best friend while they are on a trip. You can either walk the animals, or care for them overnight in the comfort of your own home.
Benefits Of Being A Pet Sitter:
Work with animals.
Work from home.
Make your own schedule.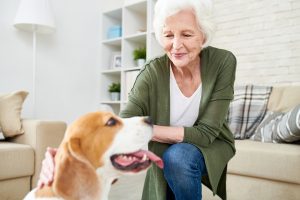 Retirement Community In Surprise, AZ
Chaparral Winds is a beautiful assisted living community near Sun City, AZ. Being able to socialize with other residents becomes an integral part of many peoples' lives and Chaparral Winds Assisted Living offers common indoor space to support that need. If a resident requires assistance moving from a bed to a wheelchair or vice versa, this facility has staff who can help.
Address: 16623 N W Point Pkwy, Surprise, AZ 85374
Phone: (623) 975-0880