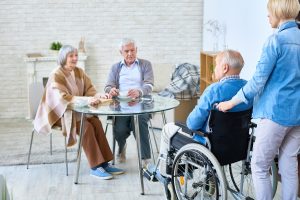 Loved ones will know it's time for assisted living when the senior citizen begins showing aggressive behavior, forgetfulness and other warning signs. This article will go over these signs and dive into detail on how assisted living arrangements can be beneficial.
Signs That It Might Be Time For Assisted Living
Assisted living communities are designed to provide round-the-clock care for seniors when family members or caregivers can no longer provide for their every need. Knowing when the time has come to transition your loved one into assisted living is crucial. Here are five signs you need to watch out for:
1. Aggressive Behavior
This is one of the most obvious signs that now is the time to consider some sort of extra care for your loved one. Whenever the senior begins acting out and becoming physically/emotionally aggressive, the caregiver can start to resent him or her. This is a clear and obvious indicator that the care of an assisted living facility is a necessity.
2. Increased Care Needs
Most senior citizens will need the occasional help, whether it is lifting something heavy or reaching an item on the top shelf. Yet, there comes a point where they simply need more help than a loved one can provide. If you are starting to wonder if the senior is safe at home, then it might be time to consider a new living arrangement.
3. General Confusion
Dementia will cause the senior to become more and more confused and begin wandering, as well. Many times the senior will not know where they are or how they got there. Unfortunately, they could also fall or injure themselves in the process. These accidents can happen in the blink of an eye.
4. Not Safe When Left Alone
Anyone suffering from dementia will become forgetful. This could mean they start cooking something and completely forget about it, or lose track of common items like keys and phones. This can lead to some very dangerous situations. For example, the senior could fall down the stairs, start fires or even forget to take medications.
5. Caregiver Burnout
This can be an all-too-common reality. Family members or caregivers can reach a breaking point. The senior's needs or mood swings may become too much to handle at some point. Caregivers can show signs of stress or depression. Whenever this is noticeable, it's time to think about an assisted living arrangement.
Assisted Living Benefits
Here are a few benefits of assisted living care:
Daily Assistance
It's very important for seniors to still have their independence, yet also have the help they need. Assisted living communities provide residents with help, only when needed, with daily living activities, such as eating, dressing or laundry.
Safety
Members of the family will no longer have to worry about their loved one getting taken advantage of, falling down, wandering off and getting lost, eating a healthy diet or taking the wrong medication. Assisted living facilities take every measure to ensure our residents are always safe and protected.
Social Interactions
It's not that uncommon for seniors to become lonely as they get older. Loneliness in seniors can lead to a lot of issues, from depression to poor health, problems getting around and more. In an assisted living facility, residents become part of a caring, loving, and supportive community. They are surrounded by residents their own age and have countless opportunities to socialize and enjoy the company of other seniors in the community.
How Much Does Assisted Living Cost?

The average cost of assisted living in the state of Arizona is $3,000 per month, with a range of prices between $1,500-$6,000, according to SLS Communities. Total costs of assisted living services will very much depend on the quality of the facility and location.
Costs will usually be broken down into two categories: rent and services. Services will include meals and snacks throughout the day, as well as housekeeping, transportation and a variety of scheduled activities. Some communities will offer rent and services together as one package. Packages can often be tailored to a resident's exact needs and requirements, ranging from activities to healthcare.
Retirement Community In Surprise, AZ
Chaparral Winds is a beautiful assisted living community near Sun City, AZ. Being able to socialize with other residents becomes an integral part of many peoples' lives and Chaparral Winds Assisted Living offers common indoor space to support that need. If a resident requires assistance moving from a bed to a wheelchair or vice versa, this facility has staff who can help.
Address: 16623 N W Point Pkwy, Surprise, AZ 85374
Phone: (623) 975-0880