How Much Does Assisted Living Cost?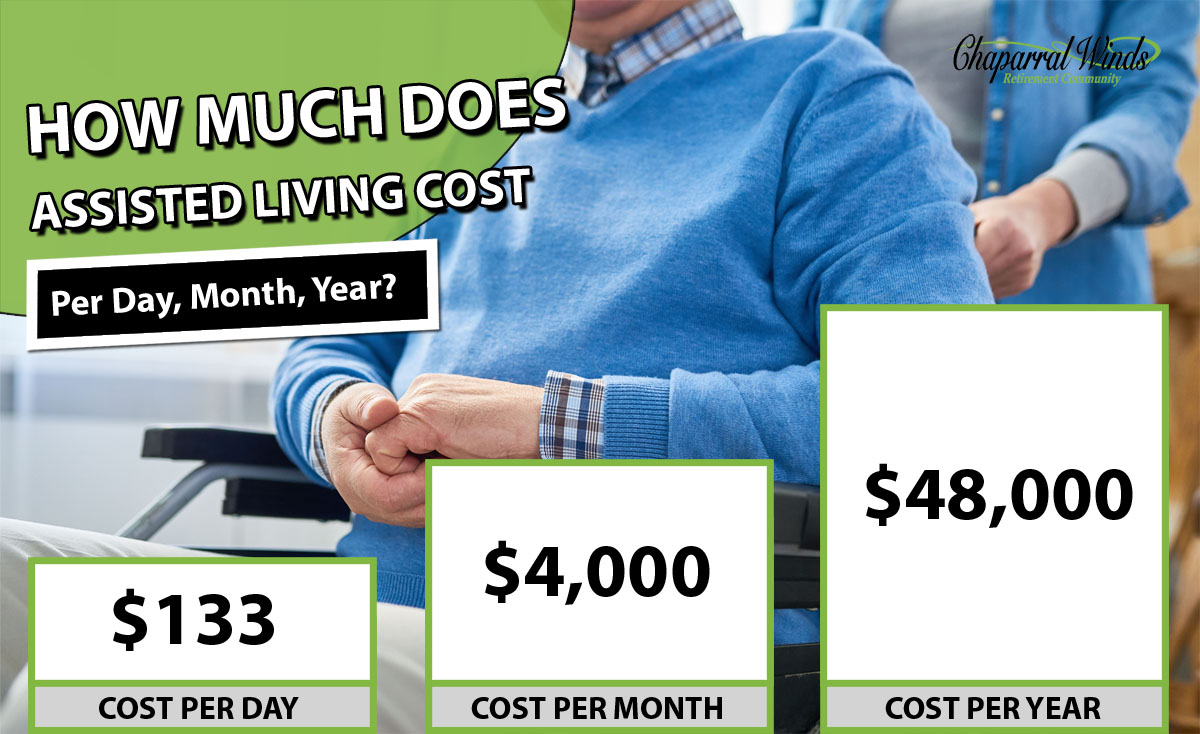 The answer is, it all depends on the community, the apartment size, the number of services you require and what area of the country you live in.
The average cost of assisted living in the US is $4,000 per month, that comes out to around $133 per day and totals $48,000 per year for 2019 according to the Genworth Cost of Care Survey 2017.
Assisted Living Cost Per Day
The average assisted living cost per day is about $133 per day according to an article by Where You Live Matters. They compare the cost of assisted living to a private room in a nursing home which costs about $278 per day.
Assisted Living Cost Per Month
According to SeniorLiving.org, the average assisted living cost per month is about $4,000 per month. Their article states the the cost of assisted living increased 2.9% from 2015 to 2016. Assisted living costs are expected to increase from 2019 to 2020 as well. According to PharMerica, "One report predicted 6-8% overall increases in construction costs for the senior living market in 2019".
Assisted Living Cost Per Year
The average assisted living cost per year is about $48,000 per year. According to Retirement Living, "the cost of an assisted living facility is $45,000 a year, with a proposed five-year annual growth projection of 3 percent, according to the 2017 Cost of Care Survey by Genworth Financial Inc."
What is Included in an Assisted Living Monthly Fee?
Many assisted living communities offer a wide variety of amenities and general services that are included in the monthly fee. They usually include:
An apartment or suite thoughtfully designed to keep our residents safe and free from falls.
Emergency call system in the apartments and/ or an emergency call pendant option.
Wellness programs and senior-friendly exercise activities.
A calendar full of life enriching programs to participate in daily.
Nutritious, chef-prepared meals served in the dining room, restaurant-style.
Basic cable TV, utilities.
Maintenance, housekeeping, and laundry services.
Transportation services for community outings, errands or appointments.
Assisted Living Cost by State
Alabama: $2,900
Alaska: $5,750
Arizona: $3,500
Arkansas: $3,133
California: $4,000
Colorado: $4,063
Connecticut: $4,950
Delaware: $5,368
DC: $6,700
Florida: $3,045
Georgia: $2,850
Hawaii: $4,125
Idaho: $3,200
Illinois: $3,898
Indiana: $3,528
Iowa: $3,518
Kansas: $3,863
Kentucky: $3,300
Louisiana: $3,155
Maine: $4,991
Maryland: $3,750
Massachusetts: $5,463
Michigan: $3,563
Minnesota: $3,200
Mississippi: $3,200
Missouri: $2,537
Montana: $3,513
Nebraska: $3,510
Nevada: $3,050
New Hampshire: $3,600
New Jersey: $4,950
New Mexico: $3,600
New York: $ 4,136
North Carolina: $3,000
North Dakota: $3,340
Ohio: $3,600
Oklahoma: $2,803
Oregon: $4,065
Pennsylvania: $3,600
Rhode Island: $4,931
South Carolina: $3,000
South Dakota: $3,370
Tennessee: $3,780
Texas: $3,515
Utah: $2,950
Vermont: $4,860
Virginia: $3,950
Washington: $4,500
West Virginia: $3,263
Wisconsin: $3,934
Wyoming: $3,995
Help with Assisted Living Costs
Paying for assisted living costs may seem overwhelming for a lot of people. Most seniors turn to assisted living once they start to need help. It can be difficult to acquire a new health insurance policy at this point to help in covering these costs. However, when possible, it's a good idea to always purchase health insurance policies that offer coverage for assisted living care and long-term care. A lot of insurance policies do provide this coverage, and this usually is the least expensive option.
Paying Out of Pocket
It is very common for individuals to pay a little of the cost of assisted living care out of their pocket. While some pay all of the cost out of pocket. This can come from investments, retirement accounts, savings accounts, or other sources of income.
Veterans Assistance
Under some circumstances, the Veteran's Aid and Attendance Pension may be a source of help for paying for assisted living care. Those who qualify are required to have under $80,000 in assets. This program can pay out a considerable sum per month to assist in covering these costs. Veterans programs – both state and federal level programs – aside from this may also be of assistance.
Medicaid
Medicaid provides a financial tool for seniors to pay for assisted living if they satisfy income requirements. These qualifications differ from state to state. Nevertheless, a lot of seniors will be approved for the program.
Medicare
Depending on the type of advantage plan that a senior has, this may include long-term care options. These are independent, paid-out-of-pocket programs. Medicare itself does not pay for the room and board or any non-medical services for the senior. If they have Original Medicare, it doesn't provide coverage for assisted living. If they have an extended advantage plan, consult that plan particularly to learn the amount and type of coverage that is available to them.
Are Assisted Living Cost Tax Deductible?
Yes, some of the cost or all of the costs of assisted living may be tax deductible. According to SeniorLivingResidences, "In order to take advantage of deductions, a taxpayer must be entitled to itemize his or her deductions. Additionally, long-term care services and other unreimbursed medical expenses must exceed 7.5% of the taxpayer's adjusted gross income. (Generally, a taxpayer can deduct the medical care expenses of his or her parent if the taxpayer provides more than 50% of the parent's support costs.)". Long Term care services can be tax deductible on Schedule A as unreimbursed medical expenses.
Residents must quality as chronically ill or unable to perform 2 or more daily living activities without assistance. For example, those who cannot bath or dress themselves would qualify for the tax deduction. According to SLR's article, "The Assisted Living resident must have been certified within the previous 12 months as "chronically ill" by a licensed health care practitioner".
Is There Assisted Living Near Me?
Almost every state has numerous assisted living communities available. To find one close to home, use the seniorlivging database. This directory makes it easier for you to find assisted living communities located across the state and community you live in. almosts every area will offer a couple of choices for seniors including some for those that have limited budgets, special needs, or specific wishes in programming and services available.
Chaparral Winds is an Assisted Living Facility in Surprise, Arizona
Chaparral Winds is a beautiful assisted living facility near Surprise, AZ. Being able to socialize with other residents becomes an integral part of many peoples' lives and Chaparral Winds Assisted Living Facility offers common indoor space to support that need. If a resident requires assistance moving from a bed to a wheelchair or vice versa, this facility has staff who can help.
Address: 16623 N W Point Pkwy, Surprise, AZ 85374
Phone: (623) 975-0880