Hillary Clinton To Raise Retirement Age How Are You Affected?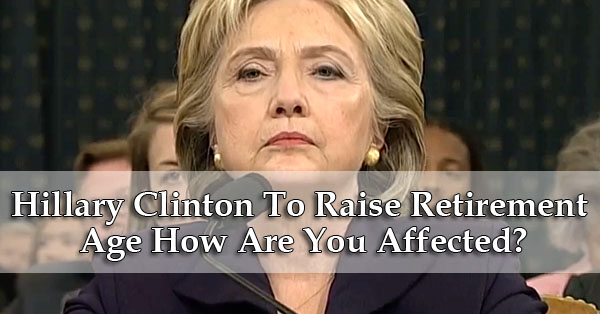 At the New Hampshire Forum on October 30th, 2014, Hillary Clinton showed support for the death penalty, but her statements about social security should of been the main focus on that day.
She was basically saying the same thing as many democrats have been heard saying all this time, "we need to take a look at how the poorest Social Security recipients are doing and find ways to get more payments there". She left the door open to potentially raising retirement ages if we could find a way to exclude those who are not fully endorsing raising the tax cap or working labor-intensive jobs, which would make sure the system is funded fully moving forward.
Question: Hillary, tell us how you would strengthen Social Security?
Hillary: There are three parts for what we need to do with Social Security. The first one is that we have to defend Social Security from being privatized. Which Hillary Clinton states she's been against for a long time because she states that the numbers don't work out. Hillary was actually one of the leaders that fought against privatizing Social Security during the Bush Administration.
Secondly, she says she is concerned about divorced, single, or widowed women who are most venerable according to what their monthly payout is. She is worried about the people who live on their earnings only or depend on their spouse who is a low wage worker. She says these will be the first things she looks at.
Finally, she says we need to consider ways to make sure that Social Security is continually being funded. She thinks there are a number of options to look at but says she is not in favor of raising the retirement age. She says she doesn't favor it because most of the people working difficult jobs would have a challenge ahead of them. She says that if there were a way to raise it without penalizing punish laborers, long-distance truck drivers, and factory workers she would do.
Although, she is looking into raising the cap. She thinks it something we should look into soon because she doesn't to put an extra burden on middle-class families.
To be more specific, Hillary Clinton is not endorsing raising the retirement age like other Republicans. But she does seem open to raising the cap on taxes, no specific plans or figures yet but she is making suggestions to raising payroll taxes on certain types of families that bring in $100,000 or more.
According to the polls, allowing any increase in retirement age or eliminating the tax will not get her in good graces with most Americans.
How Does Hillary Raising The Retirement Age Affect Your Retirement in Surprise, AZ?
Cannot start collecting Social Security until age 69 instead of 67

Decrease the amount of years you get to enjoy your golden years

You will have to work more years of your life than before