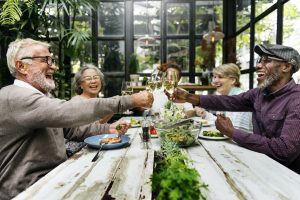 We're here to provide some of the best ideas for a retirement party!
Best Retirement Party Ideas
Are you in charge of planning an upcoming retirement party? Use these five ideas as a beginner's guide to retirement parties.
Decide On A Party Theme
Play Some Party Games
Invite Friends And Family
Put Together A Fun Music Playlist
End With Speeches
Decide On A Party Theme
Retirement parties are the ideal time to look back on reflect on one's life and career. Picking a unique theme to give the party a truly nostalgic feel is a very popular idea. Perhaps you want to take the retiree back to the 1970's when their job at the company began! Have party attendees dress up in clothes from the appropriate time period. Gather with co-workers to determine the best possible theme for the evening.
Play Some Party Games
What's a party without a few games? Playing some games is a must at any retirement gathering. A trivia challenge could be a good idea during the party. Get creative about the retiree's career by asking a few questions about tasks/co-workers over the years. Or you can have the retiree come up with all the questions to ask co-workers. Either way, trivia time will undoubtedly become a highlight of the night.
Invite Friends And Family
If you are looking for a way to make the party even more memorable, take it upon yourself to reach out to loved ones of the retiree. Inviting friends and family without the retiree's knowledge can make the night even bigger and better. A great workplace can feel like a family, so it's time to combine work family and real family in one setting. Encourage friends/family to say a few words, as well.
Put Together A Fun Music Playlist
Without a doubt, every party could use some fun music. Set the tone of the evening not only by picking a theme, but a fun playlist, as well. You can pick between some of the retiree's favorite songs or simply some appropriate tunes for a retirement party.
These songs work well for a retirement party:
"I'm Still Standing" – Elton John
"The Best Is Yet To Come" – Frank Sinatra
"Good Riddance" – Green Day
"When I'm Sixty Four" – Beatles
"Hit The Road Jack" – Ray Charles
End With Speeches
It's been proven over years that the best way to end the evening is with speeches. Let as many friends, family members and co-workers speak as possible. Encourage any speakers to practice their speeches beforehand. And, at the very end, see if the man or woman of honor has a few words to share.
More Retirement Party Ideas
Looking for even more ideas? Try a few of these:
Exchange contact information at the end of the night.
Host the party at the retiree's favorite spot.
Have a roast.
Create a unique party invitation. 
Give gifts.
Raise money for the retiree's choice of charity.
Set up a drink station.
Retirement Community In Surprise, AZ
Chaparral Winds is a beautiful assisted living community near Sun City, AZ. Being able to socialize with other residents becomes an integral part of many peoples' lives and Chaparral Winds Assisted Living offers common indoor space to support that need. If a resident requires assistance moving from a bed to a wheelchair or vice versa, this facility has staff who can help.
Address: 16623 N W Point Pkwy, Surprise, AZ 85374
Phone: (623) 975-0880