Average Length Of Stay In Memory Care Unit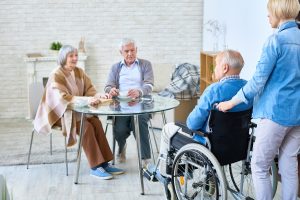 The average length of stay for an individual in memory care is two to three years. However, based on several key factors, the length of stay can vary widely.
Length Of Memory Care Stays
Figuring out an exact timeline for a stay in memory care can prove to be difficult. While some seniors may stay in memory care for more than ten years, others may spend just a few months in the community. Of course, the same holds true for assisted and independent living residents, but a typical memory care stay is between 2-3 years, nonetheless. The timeline tends to drop drastically whenever an individual enters memory care after receiving some sort of at-home care. A memory care stay may only last up to a year at that point.
Factors Impacting Length Of Stay
Length of stay for an individual in a memory care unit is impacted by the following factors:
Overall Health.
Unit Availability.
Type Of Impairment.
Family Support.
When To Go To Memory Care
If your loved one gives off any of these indicators below, it may be time to consider moving them into a memory care unit.
1. Changes In Behavior
Anyone who suffers from dementia will likely start acting differently. While some behavioral changes may be hard to notice, others will be obvious. Make sure to closely monitor any differences in behavior, motor skills or isolation. It's no secret that individuals with dementia can become anxious, agitated and confused.
2. Physical Health Declining
Physical changes can be the most noticeable indicator of either Alzheimer's or dementia. At some point, the individual may become obviously thin. Physical conditions can certainly worsen if the individual forgets to take medications regularly.
3. Constant Confusion
Dementia causes confusion and disorientation. Individuals may get confused or lost often.
Retirement Community In Surprise, AZ
Chaparral Winds is a beautiful assisted living community near Sun City, AZ. Being able to socialize with other residents becomes an integral part of many peoples' lives and Chaparral Winds Assisted Living offers common indoor space to support that need. If a resident requires assistance moving from a bed to a wheelchair or vice versa, this facility has staff who can help.
Address: 16623 N W Point Pkwy, Surprise, AZ 85374
Phone: (623) 975-0880