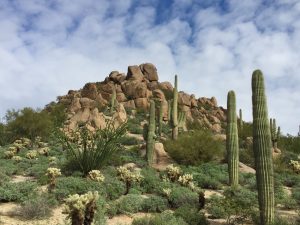 Arizona is currently the 6th-largest state in the country, and is home to 10 of the 500 safest cities in the U.S. Larger cities in Arizona, such as Surprise and Gilbert, are very safe areas for homeowners. If you are planning on living or retiring in Arizona, this list of safest cities should come in handy!
1. Oro Valley, AZ
This affluent suburb of Tucson continues to post low crime numbers each year. Located just six miles from one of the biggest cities in Arizona, Oro Valley's population has climbed since the year 2000. The small and peaceful town is home to many high tech firms, helping to contribute to the city's economy. Oro Valley features many parks and recreation choices for its citizens. Residents will feel safe to walk the streets and enjoy the breathtaking views of the Santa Catalina and Tortolita Mountains.
Population: 42,258
Violent Crimes: 27
Violent Crime Trend: n/a
2. Gilbert, AZ
Gilbert has become a mainstay as one of Arizona's safest places to call home. With another decrease in crime from 2018 to 2019, it's no wonder why so many individuals are moving to this area. After 2019, Gilbert was the only Arizona city to rank inside the nation's top 15 safest large cities. Gilbert is currently the 5th-largest municipality in the Phoenix metro area. From 1990 to 2003, Gilbert was actually the fastest growing municipality in the U.S.
Population: 247,324
Violent Crimes: 177
Violent Crime Trend: -19.4%
3. Maricopa, AZ
Maricopa, a city with nearly 50,000 residents, is one of the safest in the Grand Canyon State. In 2018, Maricopa recorded the 2nd-lowest crime rate in the state at 11.9%, according to Alarms. One of the only drawbacks to this town is its lower-than-average ratio of law enforcement officials to citizens. However, there are many active neighborhood watch associations that contribute to the town's low crime rates.
Population: 48,193
Violent Crimes: 83
Violent Crime Trend: n/a
4. Buckeye, AZ
Buckeye joins Gilbert as one of the safest communities in the Phoenix metro area, among cities with a least 25,000 citizens. Considering Buckeye houses more than 60,000 residents, its safety status becomes even more notable. Builders and developers keep choosing Buckeye for its ideal location and strong economy. Downtown Phoenix is only a half-hour car ride away, so Buckeye offers the charm of small town living with big city amenities.
Population: 61,726
Violent Crimes: 28
Violent Crime Trend: -9.1%
5. Surprise, AZ
Surprise, AZ is statistically one of the safest areas to live in. The total crime rate in Surprise is actually 47% lower than the rest of the state. It's also nearly 40% lower than the national average. The crime rate in Surprise decreased by 17% in the year 2020. Homes for sale in Surprise remain some of the best values in Arizona, as well. Currently, the median home price is under $200,000. Most importantly, the median age of Surprise homes is only 11 years. Home values continue to explode year-by-year, so there is no better time to buy in this market.
Population: 128,525
Violent Crimes: 168
Violent Crime Trend: 19.3%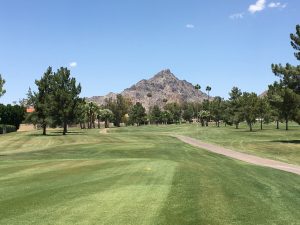 6. Lake Havasu City, AZ
Lake Havasu City has long been a hotbed for tourists from and outside of Arizona. Nowadays, though, it is gaining more of a reputation as a safe and welcoming community space. Lake Havasu City offers a plethora of outdoor activities, making this a great place to raise a young family and put down roots. Enjoy the friendly neighborhoods and some of the best sunset views one can find in the entire country.
Population: 53,220
Violent Crimes: 93
Violent Crime Trend: 5%
7. Peoria, AZ
Peoria was recently named one of the 15 safest cities in America by WalletHub. This city features much lower crime rates than neighboring cities Phoenix, Glendale and Tempe. Peoria continues to be a popular destination for retirees and young families, alike. This city is home to a portion of the MLB's spring training, as well as numerous top-notch golf courses.
Population: 170,222
Violent Crimes: 283
Violent Crime Trend: 12.2%
8. Chandler, AZ
Chandler is a great city to start and raise a family. With a dense suburban ambience mixed with an inviting environment, Chandler is one of the best places to raise a family in the entire valley. More and more people are choosing to settle in Chandler due to its close location to neighboring cities like Scottsdale, Phoenix, Gilbert and Mesa.
Population: 258,875
Violent Crimes: 490
Violent Crime Trend: 2.5%
9. Marana, AZ
Known mostly for its breathtaking views and numerous outdoor activity options, Marana is also one of the safest cities in the valley. Marana has a public school system consisting of 16 schools. This makes the school system the city's top employer, and also shows how many families choose to settle here. It's certainly possible to enjoy cycling and hiking year-round due to Marana's moderate climate.
Population: 41,302
Violent Crimes: 30
Violent Crime Trend: n/a
10. Scottsdale, AZ
One of the top retirement destinations in the country, Scottsdale is also one of the safest places to live. Scottsdale is renowned for having highly-ranked educational institutions, surrounded by suburban neighborhoods and a low crime rate. Strategically located between the beach and mountain regions, many "snow birds" will flock to Scottsdale during the fall and winter months.
Population: 233,872
Violent Crimes: 434
Violent Crime Trend: n/a
*Population/crime statistics are from SafeHome.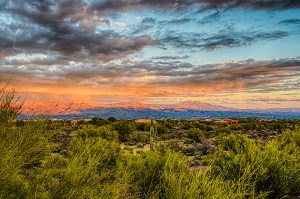 Retirement Community In Surprise, AZ
Chaparral Winds is a beautiful assisted living community near Sun City, AZ. Being able to socialize with other residents becomes an integral part of many peoples' lives and Chaparral Winds Assisted Living offers common indoor space to support that need. If a resident requires assistance moving from a bed to a wheelchair or vice versa, this facility has staff who can help.
Address: 16623 N W Point Pkwy, Surprise, AZ 85374
Phone: (623) 975-0880