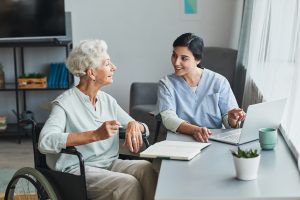 Are you looking for example questions for an assisted living interview? Use our list of questions below.
Questions To Ask About The Community
Your loved one's comfort within the community is undoubtedly the first priority when looking at assisted living options. Their new community is where they can meet new friends and enjoy an array of activities and excursions.
Consider asking these questions during the interview:
How are the activities picked for the residents?
How many residents typically participate in the activities?
What is the social experience like for residents?
Do residents usually spend more time in their rooms or in the common areas?
Questions To Ask About Care
The level of support your loved one will be receiving is another vital consideration when it comes to senior care. You'll want to find a community that offers amenities and services that meet the needs of your loved one.
Here are a few questions to ask about care:
Are services available a la carte?
What are the services that are included in the monthly agreement?
How many staff members are there compared to the total number of residents?
Can my loved one transition if comprehensive care is eventually needed?
How do your services compare to local competitors?
Questions To Ask About Costs
Beforehand, you'll need to know what the total costs are and what is included in the senior living community.
Try asking these questions regarding costs and administration:
What is included in the monthly fee(s)?
What circumstances or situations would call for an increase in costs?
What are your emergency handling procedures?
Where does the funding come from for this community?
More Assisted Living Questions:
Retirement Community In Surprise, AZ
Chaparral Winds is a beautiful assisted living community near Sun City, AZ. Being able to socialize with other residents becomes an integral part of many peoples' lives and Chaparral Winds Assisted Living offers common indoor space to support that need. If a resident requires assistance moving from a bed to a wheelchair or vice versa, this facility has staff who can help.
Address: 16623 N W Point Pkwy, Surprise, AZ 85374
Phone: (623) 975-0880