Delirium Vs Dementia: What Are The Differences?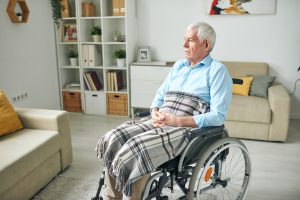 If you are wondering how to diagnose dementia or delirium, this article will go over the differences in causes and symptoms.
Delirium Symptoms
Delirium, which is known as "sudden confusion", features a serious disturbance in mood, thought and behavior. Your loved ones may no longer act like themselves. And, unfortunately, these changes can happen very quickly and seemingly out of nowhere. It may be difficult to recognize the cause of these changes, so keep an eye out for some common signs of delirium.
Mood changes, such as anger, agitation, depression and anxiety, may be noticed by loved ones. Sleep patterns may suddenly change, as well. This could mean the individual becomes more active at night and less active during the day.
Slurred speech is a common sign of delirium. The individual may also begin saying things that make no sense at all. Confusion is a large part of delirium. Instantly, a senior may not know where they are or what they are doing.
If your loved one starts to speak of seeing things that aren't actually there, this is called a visual hallucination. Common physical problems associated with delirium include pain, fever and chills.
Dementia Symptoms
Delirium and dementia both affect cognitive ability, so it is very easy to confuse the two conditions. The most common form of dementia is Alzheimer's disease. These are a few of the common signs individuals suffering from dementia will experience:
Memory loss is the first noticeable sign of dementia, although this sign will not be immediately apparent. Just like delirium, those suffering from dementia will experience difficulty performing daily tasks.
Changes in mood and problem solving will become noticeable over time. Difficulty focusing and personality changes will also appear during the seven stages of dementia.
Differences Between Delirium And Dementia
Here are the key differences to look for when determining whether someone is suffering from delirium or dementia:
Memory
Speech
Attention Span
Hallucinations
Physical Illness
As stated earlier, both conditions will affect cognitive abilities. But, dementia is more associated with memory loss than delirium is. Delirium is more known for affecting attention and concentration.
Speech changes will be far more prevalent in those suffering from delirium, rather than dementia. Changes in speech are only obvious in the late stages of dementia.
Attention spans will decrease at the end of dementia, but trouble with focusing is one of the mainstays of delirium.
Hallucinations can occur to those with dementia, but they are far more common with delirium.
Delirium is often caused by illness. People suffering from dementia will usually have no signs of physical illness.
What Are The Seven Stages Of Dementia?
Stage 1: The first stage is characterized by healthy people experiencing no signs of memory loss or dementia.
Stage 2: Stage 2 includes people who consistently forget things, usually caused by aging. Symptoms are generally mild and rarely noticed by friends or loved ones.
Stage 3: This stage includes increased forgetfulness and difficulty concentrating, among other things. Stage 3 can last up to 7 years before onset of early stage dementia.
Stage 4: Stage 4 is considered "early dementia." People suffering in stage 4 will have trouble remembering recent activities/events and increased difficulty concentrating. Decreased self worth and a decline in social interaction are usually included in this stage, as well.
Stage 5: The 5th stage features individuals with major memory deficiencies. Basic activities, such as bathing and dressing, may require some help. Memory loss may include trouble recalling major life events. This stage tends to last up to 18 months long.
Stage 6: Middle stage dementia, also known as stage 6, has individuals who need extensive help with daily activities. Forgetting big events, and family/friends' names can be included in this stage. Anxiety, delusional beliefs, agitation and personality changes will be on display. Stage 6 can last 2.5 years.
Stage 7: Seniors will have no ability to communicate during late stage dementia. They will require 24/7 care at this stage in life. Typically, the final stage can last another 2.5 years long.
Chaparral Winds In Surprise, AZ
Chaparral Winds is a beautiful assisted living community near Sun City, AZ. Being able to socialize with other residents becomes an integral part of many peoples' lives and Chaparral Winds Assisted Living offers common indoor space to support that need. If a resident requires assistance moving from a bed to a wheelchair or vice versa, this facility has staff who can help.
Address: 16623 N W Point Pkwy, Surprise, AZ 85374
Phone: (623) 975-0880