Paying For Senior Care: 5 Payment Options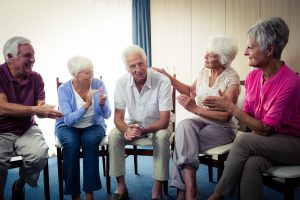 Paying for quality senior care can be expensive, especially without a large amount of savings. Luckily, though, there are several alternative ways to pay for care beyond dipping into your personal accounts. Here are five of the best ways to pay for expenses associated with a retirement community.
Ways To Pay For Senior Care
Rent Your Home
Long-Term Care Insurance Policy
Veteran's Benefits
Life Insurance
Pooling Assets
Rent Your Home
The family home is a sacred place with a ton of memories stored inside. For many seniors, selling a home you've lived in for decades is very tough. Thankfully, an alternative option is becoming more and more popular for those who could use extra money to help pay for care. Renting your home is certainly an option in today's marketplace. Renting a home and using the rental income to help pay for living expenses is a great option. It's an idea that will help ease the financial burden but also keep the home in the family's name. Leave the landlord duties to someone else, as you can always hire a service to manage the property.
Long-Term Care Insurance Policy
Consider yourself lucky if you or a loved one purchased a long-term care policy. These insurance policies do apply to assisted living communities. Based on mental or physical diagnosis, though, some policies may be specified for nursing home care only. Make sure you know everything about your long-term care insurance policy before purchase.
Veteran's Benefits
Veteran's benefits will cover residential care in a few different situations. You will be covered if you or your loved one has service-related disabilities or injuries. Aid and attendance benefits are also available to any disabled veteran who has an income below a certain amount. Going through the Veteran's Administration to receive these benefits may be the toughest part about this option. This can be a very complicated and time-consuming process to collect the benefits you deserve.
Life Insurance
Most people, elderly or not, purchase life insurance with beneficiaries in mind. With that said, there are policies that can be applied toward "living benefits." Some policies will not offer living benefits if the policy holder is not terminally ill, but some other policies will do such a thing. If your policy is one that does not offer living benefits, there is always an option to sell the policy to a third-party company. This company can then buy back the policy for up to 75% of its face value. Monthly premiums will be handled by the third party, yet the company will receive full value of the policy when the original policyholder passes away.
Pooling Assets
When a loved one enters independent, assisted or even a memory care living arrangement, the financial burden can sometimes be on the family. For large families, though, there are ways to split up expenses without sacrificing your own future. If some family members are busy each and every day caring for the senior citizen, then perhaps instead of time other family members could help with expenses. A family pooling together assets and resources to work as a team can help ease the burden on everyone during a difficult time.
Assisted Living Facilities in Arizona
Check out our independent living facilities in Arizona below:
Sedona Winds is an assisted living facility in Sedona, AZ. Sedona Winds offers activities at their facilities for its residents. We provide activities that allow residents to keep a healthy lifestyle by socializing with their peers and encouraging motion. Sedona Winds beautiful Assisted Living Community offers large studio & one-bedroom apartments with ample space for our resident's belongings.
Address: 16623 N W Point Pkwy, Surprise, AZ 85374
Phone: (623) 975-0880
Desert Winds is an assisted living community in Peoria, AZ. Our facility is a large sized assisted living community with 88 units. Communities this size usually offer one-bedroom apartments, multiple care levels, restaurant style dining, and a robust resident development program. Desert Winds wonderful Assisted Living Community offers large studio, one-bedroom, and two-bedroom apartments with adequate space for our resident's possessions.
Address: 20554 N 101st Ave, Peoria, AZ 85382
Phone: (623) 362-1200
Chaparral Winds is a beautiful assisted living community near Sun City, AZ. Being able to socialize with other residents becomes an integral part of many peoples' lives and Chaparral Winds Assisted Living offers common indoor space to support that need. If a resident requires assistance moving from a bed to a wheelchair or vice versa, this facility has staff who can help.
Address: 16623 N W Point Pkwy, Surprise, AZ 85374
Phone: (623) 975-0880
Ventana Winds is a unique assisted living located on the border of Sun City and Youngtown, AZ. Each roomy apartment comes with a walk-in closet, a patio or balcony, ample storage and a kitchenette with a full-size refrigerator. Our three-story assisted living facility is built between a lovely courtyard and a crystal-clear swimming pool. Life is destined to be lived at Ventana winds.
Address: 12322 N 113th Ave, Youngtown, AZ 85363
Phone: (623) 583-2460
Canyon Winds is an attractive assisted living community in Mesa, AZ. Residents revel in upscale living with first-class care in this gorgeous two-story, 60 unit community featuring Studio, One and Two Bedroom floorplans. Our residents are provided meals, transportation, laundry services and housekeeping. They have access to the full campus and will receive additional support and care as needed.
Address: 2851 N Boulder Canyon, Mesa, AZ 85207
Phone: (480) 948-0700