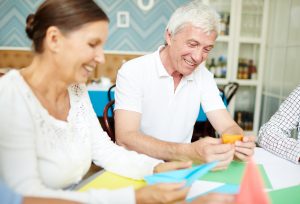 If you are searching for "easy crafts for seniors with dementia," this article will provide you with seven great activities!
Crafts For Seniors With Dementia
Here are seven great crafts, perfect for seniors suffering from dementia:
Flower arrangements
Play with magnetic letters
Paper cups for stacking
Keep a beat with a homemade shaker
Sort through coins
Fun with play dough
Scrapbooking
1. Flower Arrangements
Arranging flowers is always a productive and enjoyable activity for those suffering from dementia. This is an especially good idea for individuals that once loved gardening. Sit back and let them create some beautiful flower arrangements. These arrangements are perfect to keep in the home for the future. All you need to do is purchase a plastic vase, florist foam, as well as artificial flowers.
2. Play With Magnetic Letters
Put magnetic letters on some sort of metal baking sheet and let the senior come up with as many fun words as possible. This is a terrific brain exercise, for obvious reasons. A simple activity of sorting the letters by color can be enjoyable too!
3. Paper Cups For Stacking
This is one of the best and least expensive activities you can set up. Buy some cheap party or paper cups for the senior in your life. Individuals with dementia generally love the task of stacking these cups in multiple ways.
4. Keep A Beat With A Homemade Shakers
Keeping a beat is a very useful activity that has been proven to stimulate the mind – an essential need for those with dementia. Making a homemade shaker prior to keeping a beat can be an additional task for your loved one. We suggest filling a plastic container with dry beans or pasta to construct the shaker.
5. Sort Through Coins
Sorting through coins is fun and can take a long time to complete. It is also great at triggering memories. This task may remind seniors of when they used to balance a checkbook, set budgets and make weekly trips to the bank.
6. Fun With Play Dough
Play dough can offer fun for all ages, especially for senior citizens. Let them relax with this peaceful activity, creating any objects or shapes they'd like. Always make sure to have cookie cutters on hand while using the play dough.
7. Scrapbooking
For this fun activity, all you will need is a notebook, magazines and/or newspapers, scissors and a glue stick. Make sure you choose a safe pair of scissors, of course. Have the senior in your life look over and investigate all parts of the magazine and newspapers. Then, have them cut out pictures that interest them, eventually gluing them into the notebook. You'll be sure to enjoy the arrangements they can come up with.

What Are The Early Signs Of Dementia?
So how do you know if you or a loved one is showing early signs of dementia? Here are ten of the earliest signs that have been linked to dementia down the road:
Loss of Memory
Difficulty Planning Or Addressing Problems
Trouble Doing Familiar Tasks
Time Or Place Confusion
Difficulty Understanding Visual Information
Speaking Or Writing Issues
Losing Or Misplacing Things
Making Poor Decisions
Social Withdrawal
Changes In Their Mood Or Personality
Read more about the signs of dementia by clicking here.
Assisted Living Facilities in Arizona
Check out our independent living facilities in Arizona below:
Sedona Winds is an assisted living facility in Sedona, AZ. Sedona Winds offers activities at their facilities for its residents. We provide activities that allow residents to keep a healthy lifestyle by socializing with their peers and encouraging motion. Sedona Winds beautiful Assisted Living Community offers large studio & one-bedroom apartments with ample space for our resident's belongings.
Address: 16623 N W Point Pkwy, Surprise, AZ 85374
Phone: (623) 975-0880
Desert Winds is an assisted living community in Peoria, AZ. Our facility is a large sized assisted living community with 88 units. Communities this size usually offer one-bedroom apartments, multiple care levels, restaurant style dining, and a robust resident development program. Desert Winds wonderful Assisted Living Community offers large studio, one-bedroom, and two-bedroom apartments with adequate space for our resident's possessions.
Address: 20554 N 101st Ave, Peoria, AZ 85382
Phone: (623) 362-1200
Chaparral Winds is a beautiful assisted living community near Sun City, AZ. Being able to socialize with other residents becomes an integral part of many peoples' lives and Chaparral Winds Assisted Living offers common indoor space to support that need. If a resident requires assistance moving from a bed to a wheelchair or vice versa, this facility has staff who can help.
Address: 16623 N W Point Pkwy, Surprise, AZ 85374
Phone: (623) 975-0880
Ventana Winds is a unique assisted living located on the border of Sun City and Youngtown, AZ. Each roomy apartment comes with a walk-in closet, a patio or balcony, ample storage and a kitchenette with a full-size refrigerator. Our three-story assisted living facility is built between a lovely courtyard and a crystal-clear swimming pool. Life is destined to be lived at Ventana winds.
Address: 12322 N 113th Ave, Youngtown, AZ 85363
Phone: (623) 583-2460
Canyon Winds is an attractive assisted living community in Mesa, AZ. Residents revel in upscale living with first-class care in this gorgeous two-story, 60 unit community featuring Studio, One and Two Bedroom floorplans. Our residents are provided meals, transportation, laundry services and housekeeping. They have access to the full campus and will receive additional support and care as needed.
Address: 2851 N Boulder Canyon, Mesa, AZ 85207
Phone: (480) 948-0700