Top 5 Retirement Communities in Arizona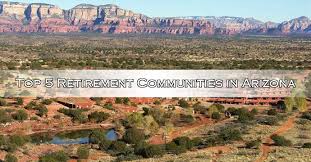 If you have been searching for somewhere that you can enjoy retirement, then check out these "top 5 retirement communities" located in Arizona. Finding the best memory care, assisted living, or independent living community for yourself or even a loved one is a big step, so check out this list.
Top 5 Retirement Communities in Arizona
Chaparral Winds is on over 12 acres that has plenty of room for residents to enjoy such as the large putting green, pools, courtyards, and even gated entry that is secured. The whole community is active, always busy, and vibrant with activities. All of the residents happen to enjoy the world class meals that are located in fine dining areas as well as cleaning services.
This happens to be a newer retirement community. Canyon Winds has a lot of great amenities. Residents are able to enjoy a beauty salon, chapel, fitness center, theater room, spa and resort style pool, and world class dining as well as housekeeping, laundry and transportation services.
Residents here are able to enjoy a community with plenty of activities for an active lifestyle. It has great golfing, quality medical care, and amazing restaurants all close by. The staff handles the cooking, laundry, and cleaning so you can enjoy your retirement without having to have chores.
In one of the most picturesque areas in Arizona, Sedona Winds gives residents access to limitless opportunities for entertainment, interests, and hobbies as well as enjoyment living in red rock. Residents can keep busy while staff handles everything else.
This retirement community has fine dining, amazing meals, manicured landscaping, elegant décor, and great floor plan options. Plus, the community is close to shopping, fine restaurants, cultural centers and some of the valley's best golf courses.
Locating a Retirement Community in Arizona
Need some help locating retirement communities located in Arizona?
We have helped a lot of seniors find the best fit for memory care, assisted living and independent living in Arizona. We have 5 locations within Arizona that can help you to find the perfect community for you or a loved one that will provide you with compassionate, highly trained, and welcoming staff and personnel.
Need help picking the type of care?
Whenever a senior or a family member is starting to consider retirement communities then there may be confusion and doubt over what type of care will be needed. We have a highly trained team to help you to decide what type of care is best out of memory care, assisted living and independent living.
Do you need assistance with planning a budget?
Most seniors will be on a fixed income and budgeting will be a huge part of ensuring that seniors will be cared for correctly. Our team will help to find the right type of community to fit every situation so that you can have a wise and balanced budget.
Do you need support while transitioning to a community?
It can be hard for some seniors to move from their home to a retirement community. Our compassionate and talented staff will focus on providing tailored care for your senior that will make them feel welcome and help to make the transition much easier.
Chaparral Winds Offers The Finest Retirement Living In Surprise, Arizona