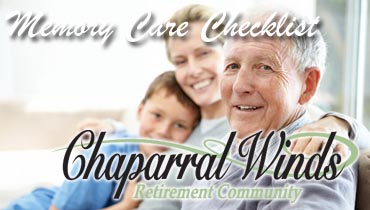 If you're looking for a memory care checklist, there are a lot of questions you may want to ask yourself, and also the facilities you look at. You'll want to find a location that will suit the necessities of your loved one, right?
Questions To Ask
Are you looking to place your loved one in a memory care community? This is a rough time, but there are some questions that can help you make the decision. You want a community that will fit with your love ones needs and requirements, and no two communities are just alike.
We put together a very thorough memory care checklist so you can know the right questions to ask and what to look for. Download the  Memory Care Checklist so you can print it out and take it with you.
The Following Questions Should Be Gone Over When Calling Or Visiting Your List of communities.
Questions About Your Loved One
Are your loved ones going to need assistance moving around?

Are they known to wander around?

Can they become aggressive?

Are they going need help eating?

Do they need supervision 24/7?

If they are diabetic, will they need help with their treatments?

Do they experience incontinence?

Does he/she need continued medical treatment?
Questions for the Community (Staff & Safety)
Does the community have experience in caring for physically disruptive and/or aggressive residents?

What are the available medical services?

Does a licensed physician visit the residents?

Are residents allowed to arrange care outside the community?

Is there a nurse available 24 hours a day?

What kind of training are the staff members required to take?

How many hours are required they for training?

How many staff members do you have during the day?

How many staff members do you have during the night?

What is the staff to resident ratio during the day?

What is the staff to resident ratio during the night?

Is there an individual care plan or do all residents receive the same care plan?

How secure is the community, buildings and grounds?
Community Policy Questions
Is there an assessment given prior to admission?

What care services are not available to residents?

How will residents transition from memory care to skilled care when needed?

What are your medical emergency policies?

What are your discharge policies?

How frequently is family updated about a resident's care?

What is your fee structure for housing and care?
Memory Care Treatment and Features
What type of living arrangements are available for residents?

Are residents given access to a walkway?

Are dining programs provided?

Are residents grouped based on their cognitive level?

Are you able to provide Parkinson's care?

Are you able to provide Vascular dementia care?

Do you offer pet therapy, reminiscence therapy or music therapy?

Are you able to provide assisted living care for those with Alzheimer bridge programs during early stages?

Do you provide light treatments or Snooze lens rooms?
Going With Your Gut
Will residents have access to outside areas?

Does the community have the same philosophy as you?

Does the staff appear friendly and experienced?

Is the community easy enough to navigate?
Chaparral Winds Offers The Finest Retirement Living In Surprise, Arizona