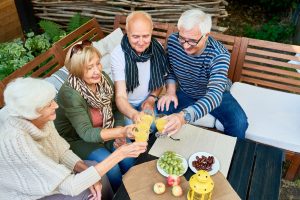 Are you looking for some new and exciting things to do now that you have officially retired? We're here to help with 12 great ideas for recent retirees.
1. Travel
Now is the time to finally go on all those trips you dreamt about. Have you traveled overseas yet? Or, have you always wanted to take a road trip across the U.S.? Regardless of your desires, make now the time for new adventures. Traveling is all about experiencing new places and making connections. Make a list of all the places you want to see during retirement and make it happen!
2. Volunteer
Volunteering can be such a rewarding experience for retirees and others. Spend your time giving back, and impacting other lives along the way. There are many resources available to check for volunteer opportunities. You can go through local charities and/or church groups to learn when any opportunities may come up.
3. Find A New Hobby
Too many hobbies or activities are put on the back burner during your busy working days. Now that you have time, pick up a new hobby. But, what kind of hobby interests you at this point? Make a list of useful household hobbies or even things you want to re-visit from your younger years. After the list is complete, prioritize a few activities and figure out which one(s) you would like to tackle.
4. Learn An Instrument
Was this one thing you wish you would've done as a kid? Well, it truly is never too late to learn a new instrument. Learning new things is so important, no matter what stage of life you are in. Keep your inner child alive by taking the time to learn a musical instrument. If you were too busy during your career to invest time in this hobby, now is your chance to learn and play.
5. Exercise
One of the best gifts you can get yourself is mental and physical health. Regular exercise is more and more beneficial as we age. It can dramatically improve both mental and physical health over time. Choose some sort of physical fitness that interests you. Going on long walks in the morning or joining a yoga class are two popular options.
6. Mentor
Your lifetime of experiences is invaluable. Pass on those experiences/lessons to the younger generation by becoming a mentor. You can either choose to become a life or career coach when taking this route. If desired, it is possible to get internationally certified as a coach before you seek clients.

7. Get A Part-Time Job
When you first start off in retirement, working may be the furthest thing from your mind. But, over time, you may start to miss the structure and mental engagement. Stay away from a full-time job, though, and find a part-time gig that excites you. There are many great jobs for seniors to choose from. A stay-at-home job is easy to find, especially today. Consider data analysis, customer service positions or even writing opportunities.
8. Read
Just like exercise, everyone wishes they had more time to just relax and read back in the day. Now, since you are relaxed and have time, crack open a good book or two. Re-read some of your favorites or search online for some of the top novels ever penned.
9. Charity Work
You can either sign up to be on a board, attend events, fundraise or just offer to give input. Volunteering is all about getting involved with something near and dear to your heart. Search around your community or your alma mater for opportunities that may be perfect for you.
10. Start A Blog
The older you get, the wiser you become. Do the younger generation a service by sharing your wisdom! Share your favorite experiences, recipes and even work/real-life adventures with a mass audience. Starting a blog is very simple, and it is a great way to communicate with friends and loved ones.
11. Socialize More
Socializing nowadays means more than just connecting with old friends or co-workers online. Many retirees can unfortunately lose contact with friends over time. Re-connecting with old friends is a great way to spend days. For a lot of retirees, their social circle was based directly on their workplace. Don't lose that sense of comradery once you retire. Find ways to connect with new and old friends.
12. Create A Bucket List
It's never too late to create a bucket list! Your list is a blank canvas, so you can jot down anything. Feel free to ask loved ones or friends for some refreshing ideas and inspiration. From travel to hobbies, make a list of everything you want to do in the coming years.
Retirement Community In Surprise, AZ
Chaparral Winds is a beautiful assisted living community near Sun City, AZ. Being able to socialize with other residents becomes an integral part of many peoples' lives and Chaparral Winds Assisted Living offers common indoor space to support that need. If a resident requires assistance moving from a bed to a wheelchair or vice versa, this facility has staff who can help.
Address: 16623 N W Point Pkwy, Surprise, AZ 85374
Phone: (623) 975-0880