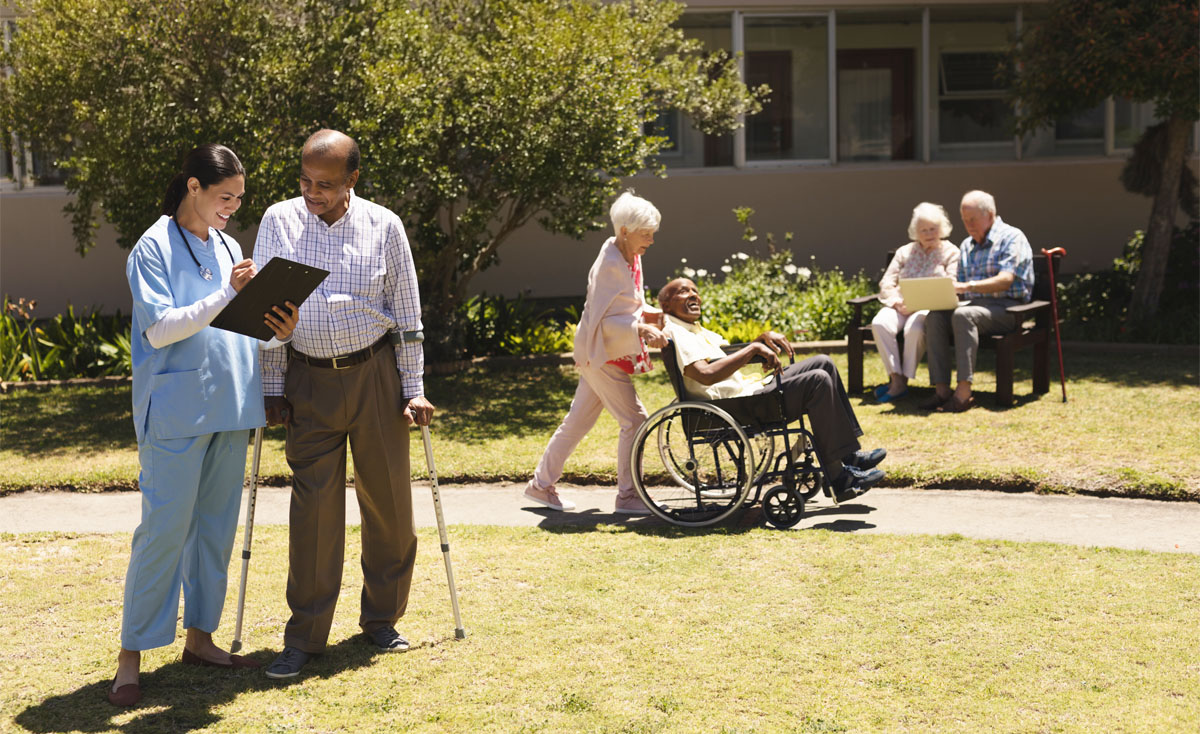 An Assisted Living Facility may be the answer for a senior with mental & physical disabilities, since it can provide the degree of help required, allowing the resident to maintain as much independence as possible. A residential care home may be another option, especially if the home specializes in serving seniors with disabilities and is suited to provide the level of care your loved one needs.
In accordance to Title II of the American Disabilities Act (ADA) that was passed in 1990 stipulates equal housing opportunities for those with disabilities at state and local levels. Since the ADA was passed, housing and housing alternatives have improved and increased dramatically for people with disabilities. There are many kinds of disabilities impacting people in varying ways and to different degrees. Disabilities generally fall into 4 categories:
Mental illness affects people's behaviors, thinking and their emotional state.
Physical disability affects a person physically usually leading to problems with mobility.
Intellectual disabilities cause difficulties in socializing learning and retaining information.
Sensory disabilities affect the senses and include blindness, hearing loss and Autism spectrum disorder (ASD).
Out of these categories, commonly only two will impact housing needs – physical and sensory. The ADA has made a huge impact on the lives of the handicapped and disabled senior, guaranteeing that entrances into a lot of senior housing options now include ramps and handrails and those that have multiple stories have elevators. As a result, the best-assisted living options housing for disabled adults and handicapped adults alike include:
1. Assisted Living Facilities
– Sometimes referred to as supported care facilities, gives care to those with disabilities who are unable to live independently, usually needing assistance with (activities of daily living) ADL. A lot of them offer private and semi-private apartment-style living usually including a living area and kitchenette.
2. Independent Living Facilities
– Independent Living is available for those who can live on their own or with a roommate. They will need some support such as assistance with budgets, shopping for food, meal planning and preparation, household maintenance, safety, and health monitoring.
3. Boarding Home
– Boarding Homes provide care for individuals who can't live alone but aren't ready for a nursing home. This home provides bathing, help with dressing, housekeeping, meals planning and preparation, and transportation. Depending upon location, Medicaid will cover some expenses. State and federal programs help to finance the rent for its residents.
4. Group Home
– Group homes are usually either private, nonprofit facilities or operated by local governments. Privately run group homes don't have government supervision unless they receive funding from the government. A nonprofit or government-run facility will follow certain rules and regulations and determines who receives the services.
5. Alternative Family Living
– Alternative Family Living Arrangement (AFL) is an out of a home setting where the person receives 24-hour care and lives in a private home environment with a family in which the services are provided to address the care and habilitation needs of the person.
6. Accessory Dwelling Units
– also called to as accessory apartments, secondary units, or granny flats. Accessory dwelling units are an additional living space on single-family lots that are independent of the primary housing. The separate living spaces usually have a kitchen and bathroom and are either attached or detached from the main residence. Assistance may be provided by the main residence.
7. Living With Family
– Some people with disabilities can live in their own homes or apartments but need assistance with certain activities like cooking, cleaning, and shopping. If there are no family caregivers or other volunteers available, outside assistance may be necessary. Home healthcare agencies are a resource that can provide these services.
8. Section 8 Housing
– This program allows people to rent safe, decent, affordable housing in a community. The official name is Housing Choice Vouchers Program. Local Public Housing Agencies (PHA) or the local municipal public housing agencies manage the Housing Choice Voucher Program (Section 8). The Section 8 program will only provide rental assistance. Although Section 8 vouchers apply for payment to assisted living facilities, they can't pay for services or meals.
According to SpecialNeedsAnswers, "The Section 8 program provides vouchers for people with low incomes to obtain housing in the community".
9. Nursing Homes
– If a person with special needs requires 24/ 7 medical care, they may need to live in a skilled nursing facility if it's not possible to provide that care at home. Even though nursing homes are a last resort for a lot of families, in some cases they can be the most suitable option for a person with severe special needs. Because there is continual supervision of care and the person's family members don't have to spend their time caring for their loved one.
10. Subsidized Housing
– Subsidized Housing offers additional services to its disabled residents. Services are room cleaning, laundry services, and shopping. Subsidized housing is found within apartment complexes and is available for those who have low to moderate incomes. The monthly rent is on a sliding scale. State and federal programs help to finance the rent for residents.
Chaparral Winds is an Assisted Living Facility in Surprise, Arizona
Chaparral Winds is a beautiful assisted living facility near Surprise, AZ. Being able to socialize with other residents becomes an integral part of many peoples' lives and Chaparral Winds Assisted Living Facility offers common indoor space to support that need. If a resident requires assistance moving from a bed to a wheelchair or vice versa, this facility has staff who can help.
Address: 16623 N W Point Pkwy, Surprise, AZ 85374
Phone: (623) 975-0880