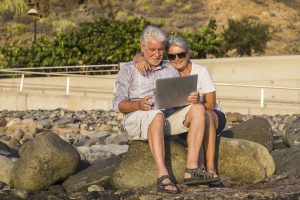 Up to this point, your life may have been all about work and raising a family. Retirement is a chance to dedicate time to yourself. If you are searching online for "what to do after retirement" or "things to do in retirement," then this post is for you!
Fun Things To Do In Retirement
Travel
Volunteer
Get A Part-Time Job
Purchase An RV
Catch Up On Reading
Start A Blog
Fitness Routine
Learn To Play An Instrument
Spend Quality Time With Friends & Family
Public Service
Travel
Retirement is the perfect time to finally take those trips you've always been dreaming about. Your work days are now over and the calendar is free. Whether you wish to fly to a foreign country or take a road trip throughout the United States, this is your time to adventure. A common way to travel for many retirees is to visit places they previously explored. Re-visit some of your favorite spots or check a few new places off the bucket list!
Volunteer
Volunteering can be such a rewarding experience for retirees and others. Spend your time giving back, and impacting other lives along the way. There are many resources available to check for volunteer opportunities. You can go through local charities and/or church groups to learn when any opportunities may come up.
Get A Part-Time Job
Even during retirement, it is very common for men and women of a certain age to keep some sort of part-time job. Find something you are really passionate about. Feel free to contact companies or recruiters to learn about any openings that may spark your interest. Adding some extra income and even meeting some new people are just a few great benefits of rejoining the workforce.
Purchase An RV
We mentioned traveling earlier, and there is truly no more enjoyable way to travel than in an RV. An RV is perfect for any long road trips ahead. Perhaps you want to step foot in all 50 states or visit as many national parks as possible. Regardless of the destination, you will always travel in style with an RV. This will give you the comforts of a home, where you'll still be able to cook, clean and sleep with your own sheets and pillows at night.
Catch Up On Reading
Ease into all of your newfound free time by jumping back into some favorite hobbies. Catch up on all the classic books and novels you simply haven't had the time for over the past few busy years. Joining a book club and meeting new people that share the same interests is another rewarding experience.
Start A Blog
The older you get, the wiser you become. Do the younger generation a service by sharing your wisdom! Share your favorite experiences, recipes and even work/real-life adventures with a mass audience. Starting a blog is very simple, and it is a great way to communicate with friends and loved ones.
Fitness Routine
One of the best gifts you can get yourself is mental and physical health. Regular exercise is more and more beneficial as we age. It can dramatically improve both mental and physical health over time. Choose some sort of physical fitness that interests you. Going on long walks in the morning or joining a yoga class are two popular options.
Learn To Play An Instrument
Once you're finally settled into retirement, it's common for old hobbies to reappear in one's life. To add to that, there are usually a few hobbies that you always intended to get to, but never found the time. Learning to play an instrument or learning a new language will keep you sharp mentally, and even spark some new interests along the way.
Spend Quality Time With Friends & Family
This is generally priority number one for retirees and the elderly. Family and friends may have moved around due to jobs over the past few decades, so use this time to travel and catch up with them.
Public Service
Choosing to get involved and make a difference in the community is a great use of time. Help others and make an everlasting impact in the community by jumping into the realm of public service.
Assisted Living Facilities in Arizona
Check out our independent living facilities in Arizona below:
Sedona Winds is an assisted living facility in Sedona, AZ. Sedona Winds offers activities at their facilities for its residents. We provide activities that allow residents to keep a healthy lifestyle by socializing with their peers and encouraging motion. Sedona Winds beautiful Assisted Living Community offers large studio & one-bedroom apartments with ample space for our resident's belongings.
Address: 16623 N W Point Pkwy, Surprise, AZ 85374
Phone: (623) 975-0880
Desert Winds is an assisted living community in Peoria, AZ. Our facility is a large sized assisted living community with 88 units. Communities this size usually offer one-bedroom apartments, multiple care levels, restaurant style dining, and a robust resident development program. Desert Winds wonderful Assisted Living Community offers large studio, one-bedroom, and two-bedroom apartments with adequate space for our resident's possessions.
Address: 20554 N 101st Ave, Peoria, AZ 85382
Phone: (623) 362-1200
Chaparral Winds is a beautiful assisted living community near Sun City, AZ. Being able to socialize with other residents becomes an integral part of many peoples' lives and Chaparral Winds Assisted Living offers common indoor space to support that need. If a resident requires assistance moving from a bed to a wheelchair or vice versa, this facility has staff who can help.
Address: 16623 N W Point Pkwy, Surprise, AZ 85374
Phone: (623) 975-0880
Ventana Winds is a unique assisted living located on the border of Sun City and Youngtown, AZ. Each roomy apartment comes with a walk-in closet, a patio or balcony, ample storage and a kitchenette with a full-size refrigerator. Our three-story assisted living facility is built between a lovely courtyard and a crystal-clear swimming pool. Life is destined to be lived at Ventana winds.
Address: 12322 N 113th Ave, Youngtown, AZ 85363
Phone: (623) 583-2460
Canyon Winds is an attractive assisted living community in Mesa, AZ. Residents revel in upscale living with first-class care in this gorgeous two-story, 60 unit community featuring Studio, One and Two Bedroom floorplans. Our residents are provided meals, transportation, laundry services and housekeeping. They have access to the full campus and will receive additional support and care as needed.
Address: 2851 N Boulder Canyon, Mesa, AZ 85207
Phone: (480) 948-0700